Free Unlimited Votes and Polls!
No1 Rated Poll Maker
Default Themes
Your Themes
Customize
Voters have to enter a unique code to vote
Voters can select multiple answers
Voters can tick 'other' and type their own answers
Hide results after voting
Share
Embed
Email
Unique Codes
Email embed code
Add Email
Create a list of Unique Codes that you can give to voters to ensure that they only vote once. You can also download the codes as direct links
Fullscreen
Preview
Click to return to Vote Screen
Your Poll Question?
Polling 1 Million+ People Everyday

Fully Featured, 100% Free
Completely Free
We don't limit the number of polls or responses like others claiming to be free. 100% free and always will be.
Click Fraud Detection
We use intelligent digital fingerprint technology to ensure results are not manipulated. Set your security level from the 'Settings' tab.
Mobile Optimized
More than 60% of voters are using mobile devices which is why our polls are responsive. This means they work brilliantly on everything.
Shareable
Your poll is automatically optimized for Facebook and Twitter. This ensures maximum social engagement, spread the love for your poll.
Integrated Comments
Allow voters to discuss poll results directly and improve engagement. Enabled by default, you can control this from the 'Settings' tab.
Beautiful Results
Sort results by popularity, see votes over time and visualize votes by location in an integrated heatmap report.
Fully Customizable
Hit 'Customize' in the theme preview or 'Themes' tab and tailor the poll to look and feel exactly like your existing website.
Integrate Pictures/Video
Add pictures and video by clicking the icon in either the question or answer box.
Hide/Show Results
Want to build suspense with your voters? It's easy, hit 'Settings' and tick 'Hide Results' after voting.
Secure and Stable
We've offered free polls reliably for close to 10 years. Delivered 45 million+ votes on sites like Yahoo, Amazon, Times and more.
How to Publish a Poll in 3 Steps
1. Add Questions
Type your question then add answers. From this point simply hit create poll and you're ready to go. The rest of the steps are optional. No signup required. Add multiple questions with our survey maker
2. Set Options
On the Themes tab select one of our default themes or create your own. On the settings tab set options like allowing multiple answers, allowing voters to enter their own answers and much more
3. Share & Report
Click Share and copy your poll Vote url to share with voters. You can also hit Embed to place the poll directly on your website or blog.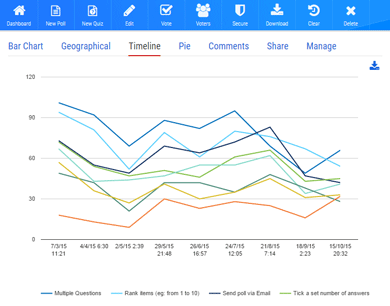 Live Results In Clear Concise Graphs
Live graphs show your poll results immediately in easy to understand and read, bar graph format. But final results don't always reveal the whole picture. The longitudinal graph provides a visual representation of poll votes over time.
Visualize Your Audience
Heatmaps Show Votes by Location
Heatmaps show where your poll generated votes by location. Zoom in to the city level or out to see poll vote traffic by country. Like all features heatmaps are provided completely free and without limitation.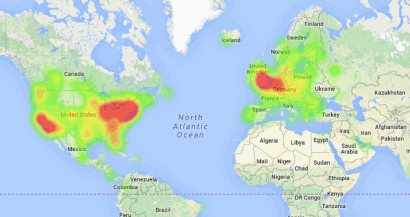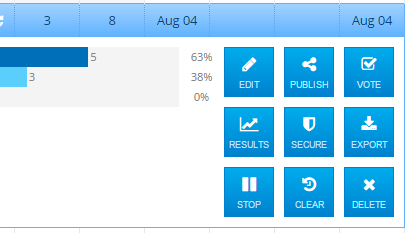 Export Results and Manage Polls
Create your free account to manage all your polls in one place. This way you can edit existing polls, view and print reports, change options after you've published and even download your responses to a spreadsheet. You'll also have access to our free support.
Poll Guides and Help
Got a question or need some help?