How to Create an Online Poll
Want to learn how to publish your own online poll for your visitors or Facebook followers? You don't even need a website, just an audience and a question. Follow our instructions and tips and you'll be publishing your first poll within a few minutes.
Choose a Poll Creator
You don't need to understand a programming language to create a fully featured poll. There are dozens of free tools which do this job for you (us included). Nearly all allow you to embed the poll on your website or share it directly with your audience via facebook, twitter or old fashioned email. It's important to make sure the tool you choose truly is free. A few will allow you to create your poll but charge you when you hit a certain number of responses and prevent you from accessing results until you hand over a credit card.
Pro-Tip: Don't be caught out with a poll maker which seems free but restricts access to your poll and results after a number of responses.
Configure Your Poll
After you've entered your question and answers you can go ahead and start taking responses by hitting the 'Get Poll Now' button. So unless you have specialized needs you can skip this section. Alternatively you might wish to modify the way your poll operates. Below are just a few of the options you can control with our poll creator.
Change the Look and Feel

If you're embedding the poll you can modify the layout and design of the poll so it fits with the theme of your site. Keep in mind it's sometimes best to create a little contrast and draw attention to your poll.

Allow or Restrict Multiple Votes

Want to restrict your voters to a single vote per person? This is good idea to ensure your results aren't skewed towards a few obsessive or even manipulative voters.

Allow 'Other' Types of Answers

You might have listed on a few of the more popular answers to your poll question. What if your poll responders have great ideas and answers you haven't listed? You can allow your voters to submit answers you have listed by enabling this option.

Hide Results after Voting

Fairly self explanatory. Ticking this option allows you to present the results as a blog post and encourages your visitors to return to your site. It also tends to prevent voters from attempting to manipulate results.

Add Multiple Questions

If you need a poll with multiple questions, you can use our free Quiz Maker which has all the same features (+ more) and allows unlimited questions and responses.
Get Poll Responses
There are two basic methods of publishing your poll. You can either:
Embed:

If you have a website or blog and want your poll to appear directly on your site you will copy and paste the embed code directly into a page on your site. With this method it's best to test your poll before you publish. Although it's very rare your sites code can interfere with the embed code. If you do run into trouble give us a contact and we'll help out.

Share, Tweet, Facebook etc

Every poll you create can be shared directly via a link like this: http://www.poll-maker.com/poll258677xb49B4b97-10 or shared directly to Facebook and every other social network directly. This is a very simple and reliable method and if you're looking to maximize the amount of quality responses it's best to share via all the methods available to you. Pro-Tip: Publish your poll via every method available to you and remind your audience to vote daily.
Comment or Question?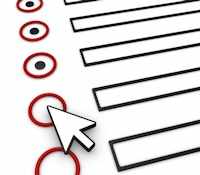 Updated


June 25, 2015

Author


Michael Hodge

Category: Poll Instructions