Start your
free

trial today!
100% No Risk, No Contracts, Cancel Anytime
Create your Quiz Maker Profile
Order Review
Total: $0 for 14 days
After 14 days: $
29 per month
49 per month
99 per month
276 per year
468 per year
948 per year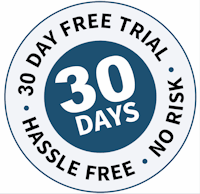 100% No-Risk Guarantee!
You are fully protected by our 100% No-Risk Double-Guarantee. If you don't like our product over the next 14 days, then simply cancel your subscription. You won't pay a thing. No questions asked.
Am I entering a contract
No you may cancel your subscription at anytime. There are no exit fee's or obligations to continue your subscription. The process is simple and takes only a few seconds.
Is coding knowledge required?
You require no technical expertise or coding knowledge. Surveys are created with our simple point and click survey creator.
Is your site secure?
We use industry leading GeoTrust 256bit SSL encryption on all our web pages to ensure information you submit is securely processed.
Is support available if I need it?
Yes, we offer premium email based support. We also have simple step by step guides for every feature we offer.
How are responses counted?
A response is a unique quiz completion that has passed our security and spam checks. We do not count partially completed or auto submitted responses.
Can I switch between plans
Should you require more or less quiz completions we can have your account migrated without service interruption.
Join

Standard
$29/month after 14 days
Unlimited Quizzes
Hosted & Embedded Quizzes
Quiz Maker Branding
Unlimited Polls
Unlimited Poll Votes
Branding on Polls
Premium
$49/month after 14 days
Best Value
Unlimited Quizzes
Hosted & Embedded Quizzes
Your Branding
Unlimited Polls
Unlimited Poll Votes
No branding on Polls
FAQ
Why do you need my credit card info?
We ask for your credit card so you don't experience any interruption to your reporting and campaign data collection if you decide to continue your subscription.
Am I agreeing to a contract when I take a free trial?
Nope! You are under no obligation when you sign up for a monthly subscription. You can cancel instantly at any time from the 'Account' tab of your Dashboard.
What payment options do you accept?
We currently accept Visa, MasterCard, Discover, American Express and PayPal.
Billing Questions? Ask Us