How to make an Online Survey
A simple step by step guide on how to create an online survey.
The most important consideration when creating an online survey is optimising the experience to be as simple and easy as possible for your survey takers. If you haven't already done so you can read our research backed tips on increasing survey response rates. It's good to have these challenges in mind when you begin creating your survey. We're going to assume you already know which questions your survey will ask and have a basic idea of what you want your survey to look and feel like. If you're starting from scratch and not sure which questions to ask you can start with one of our survey templates.
Choosing the best online survey maker
If you're yet to decide upon an online survey maker there are a few considerations which may impact your choice of tool. We believe we cover the requirements below very well but if you're considering using other online survey makers these are questions you want to give consideration.
Can I make it easy to respond?
Can the survey be integrated to look and feel like part of our website?
Which question types do I need to ask? (Multiple Choice, Matrix, Checkboxes, Emojis)
Will the survey work on mobiles, tablets and desktops?
How will I invite people to take my survey?
What is the actual survey experience like?
How will I understand my results?
Do I want to analyse results within the survey maker itself?
Do I need to integrate my survey into a third party software platform?
What kind of filters and segmenting will I need to find actionable information?
Do I want to be notified of responses?
1. Add Questions
Give your survey a title. Depending on settings your participants might see this title so give it a meaningful and engaging name. 'Have your say' beats generic titles like 'Customer satisfaction survey'
Hit 'Add Question' and select your question type. You'll see a space to add your question and answer.

When you select the question you'll see a toolbar appear with a range of buttons. The toolbar allows you to change question type, set the question as mandatory, add logic and manage other settings.

Repeat the above step to add more questions. You can hit the toolbar to the right of the question and select 'Copy Question' if it saves time
Hit the Preview button in the bottom right, your survey is now ready to publish. Read on if you want to customize the look and feel otherwise hit the 'Share' tab.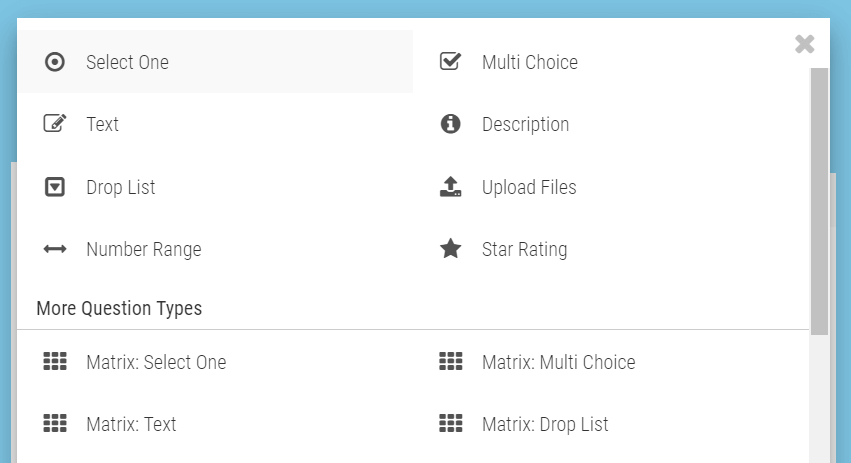 2. Add a logo, images and modify colors
You can add your logo by hitting the pencil icon to the right of the Survey Title. This will bring up the advanced editor which has an 'Insert Media' option. Use it to upload and resize your logo.
Add images to your survey by hitting the image icon to the left of the question or answer section. You'll also be able to access the advanced editor this way.
Change the font and default template by hitting Settings tab and then select 'Customize'.
Periodically hit the 'Preview' button to get an idea of the final product.
3. Change the default settings
From within the settings tab you can customize the default behaviour of your survey. Take a look at the tab to get an idea of the options which are all reasonably self explanatory. Features like randomizing question order, showing/hiding the survey progress bar and more advanced settings like security settings are available within this section. Feel free to play around with the settings and hit the 'Preview' button to see exactly what your survey will look like.
4. Share Your Survey
The last and most important step is sharing your survey amongst respondents. Before you go live have a colleague take your survey in order to ensure you're not publishing a mistake. Even if you've tested thoroughly consider initially sharing your survey with only a small subset of your respondents. This may give you insights into improving your survey or highlight oversights that testing didn't uncover.
Hit the 'Share' tab
From the share tab you can either choose to share a direct link to your survey or you can find code which allows you to embed the survey on your website
If you wish to email people, sharing a direct link is the advised method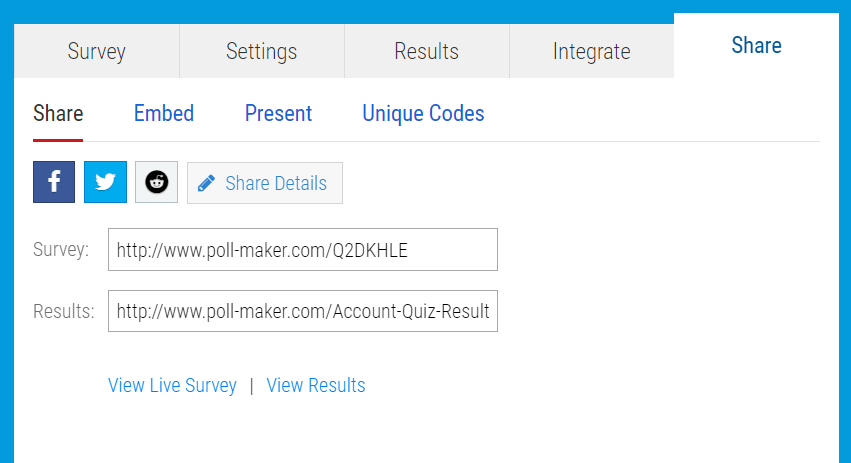 5. View and Manage Results
Login to the dashboard and click the title of the survey you're working on.
To access our integrated reporting click the 'Results' button. From here you can see a summary for each of your questions.
You can hit the export button to export your results to a spreadsheet or HTML file for further analysis.
The Responses button allows you to see and manage individual responses.